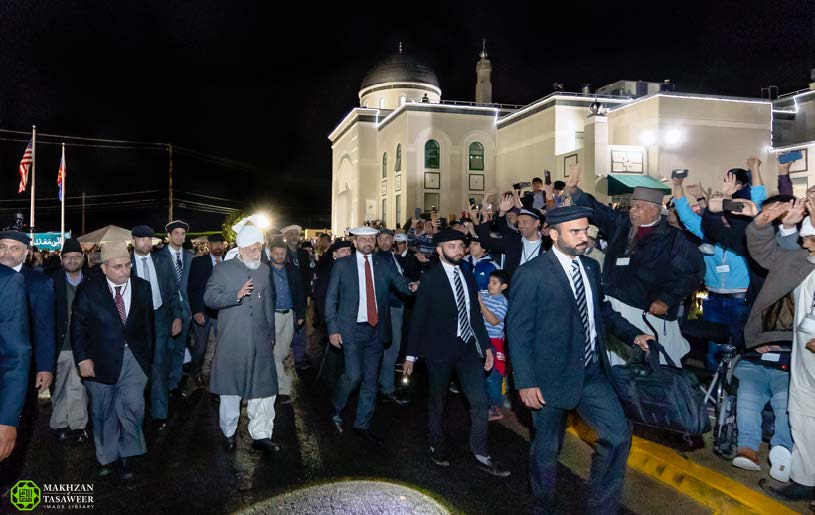 By the time the immigration was complete and the luggage was collected it was 9.45pm US time.
Huzoor departed from the airport and proceeded directly to the Baitur Rahman Mosque in Maryland where he arrived at 10.35pm and was welcomed by over 3,500 Ahmadi Muslims in an extremely emotional and memorable scene.
Huzoor's car stopped near the entrance of the Baitur Rahman Mosque and as Huzoor stepped out of his car, the local Ahmadi Muslims got their first chance to see Huzoor.
Occasionally, certain moments or a particular atmosphere is described as 'electric' and that is exactly how it felt as the US Jamaat members welcomed their Khalifa. Huzoor waved and smiled as he walked through the Mosque complex.
Huzoor went to his residence for a few minutes to do Wudhu before walking to the Mosque to lead the Maghreb and Isha prayers at 11.05pm local time.
By the time Namaz was complete it was 11.30pm and as Huzoor returned to his residence for the night, he saw his nephew, Mirza Ehsan Ahmad.
Upon seeing him, Huzoor smiled and said:
"For us, it is now Fajr time."
According to the UK time, it was now 4.30am and Huzoor's comment reflected the very long and draining day of travel. Yet, there was no look of irritation or fatigue apparent on Huzoor's face.
"Allah Taala ka apna intezam hota hai."
Alhamdolillah, Huzoor's arrival in the United States had been smooth. Nonetheless, a close friend, Amjad Mahmood Khan, who serves as the USA Jamaat National Umoor-e-Kharija Secretary told me that he and other members of the USA Jamaat had been very nervous and worried about Huzoor's arrival.
Just as I had feared, they too were worried that Huzoor would not be treated in an appropriate fashion upon entering the United States by the immigration authorities.
Describing the unique political atmosphere in the United States preceding Huzoor's visit, Amjad said:
"A critical task of the USA Jamaat is to facilitate the travel entry, exit, and port courtesies for Huzoor and his staff. This requires a careful appraisal of diplomatic protocols offered by the U.S. Government through the U.S. State Department. Needless to say, the political environment and context within which Huzoor was traveling to America in 2018 was the most tense and volatile in recent memory. America was intensely polarised and divided, and some recent policies have led to intensified scrutiny over travel and port arrival for the sake of national security."
Amjad continued:
"Against this backdrop, in the months prior to Huzoor's arrival, the usual courses of action the USA Jamaat employed for prior trips of Huzoor hit significant roadblocks and caused us severe anxiety. In fact, our efforts had yielded no approvals or progress whatsoever, and just one week prior to Huzoor's arrival, we were officially informed that the courtesies extended to Huzoor in prior trips would not be available in any manner. At this juncture, we wrote to Huzoor for prayers and informed him of the extremely dismal situation, and Huzoor informed us not to worry and to keep sharply focused on prayers."
I remember clearly the particular day Amjad mentioned where he and his team were extremely worried and anxious. During a Mulaqat, Huzoor mentioned to me that the USA Jamaat had written for prayers but Huzoor himself was not concerned or worried. Rather, Huzoor's calm demeanour and countenance reflected his complete trust in Allah the Almighty.
Understandably, the Jamaat members in the USA remained worried. Yet as Huzoor's arrival drew ever closer they saw how Allah the Almighty forever protects the honour of Khilafat-e-Ahmadiyya.
Describing those final days and hours before Huzoor's arrival, Amjad said:
"With only two business days left before Huzoor's arrival, we began planning as if Huzoor would receive no courtesies – a position none of us had ever been in before. But just as we were at our lowest point, we began to receive a wave of unexpected support from our allies in U.S. Congress, who began calling the U.S. State Department to demand that full courtesies be extended to Huzoor. The ferocity and weight of rapid Congressional pressure – from both Republicans and Democrats – was like nothing I have witnessed in the almost 10 years that I have been serving in the Umoor e Kharija Department. At the same time, the U.S. Ambassador for International Religious Freedom, Sam Brownback, elevated the matter to the highest officers at the U.S. State Department. Even the Office of the Vice President of the United States of America intervened to support the request."
Amjad continued:
"Remarkably, owing to Allah's immense grace, within 24 hours, the U.S. State Department's Chief of Protocol personally informed us that the U.S. Government had officially granted Huzoor full port courtesies in response to the overwhelming pressure. Extraordinarily, the U.S. Government made an official "exception" to the policy used by the Customs and Border Patrol, noting that it did so 'to demonstrate goodwill on behalf of the State Department and Administration towards a heavily persecuted religious community and [their] deep appreciation for their partnership in promoting international religious freedom.'"
One thing I have learned is that nothing will ever stop Huzoor or deter him from propagating the message of Islam and guiding the members of the Jamaat.
Thus, whether the US authorities afforded courtesies or not, it would not stop Huzoor from travelling to America but, as Ahmadi Muslims, we ardently desire that Khalifa-Waqt is treated with respect.
Certainly, given the current US administration, it felt as though Allah the Almighty was Himself arranging everything for Khalifa-Waqt.
Reflecting on Huzoor's arrival, Amjad said:
"In its 100-year history, the USA Jamaat had never previously been conferred an official grant of full diplomatic courtesies for Khalifatul Masih by the U.S. State Department Office of Chief of Protocol in this manner. In the face of turbulent political times, no one in the USA Jamaat could ever have expected the level of respect and goodwill the U.S. Government showed to Huzoor. In a matter of only a few days, we went from being at our lowest point to having received an unparalleled bounty. None of our paltry efforts achieved this. This was purely due to the special favours Allah bestows on the institution of Khilafat and the office of Khalifatul Masih, and how Huzoor's fervent and sincere prayers miraculously alter political and worldly outcomes. How blessed were we to witness this miracle before our very eyes!"
The next day, in the evening, Huzoor met some of his relatives who lived in the United States after Maghreb and Isha.
One of the first questions Huzoor was asked by a relative was how the immigration process and entry into the United States had been.
Upon this, Huzoor smiled and answered with one word.
Huzoor said:
"Kamaal!" meaning "Excellent".
Then, very emotionally and beautifully, Huzoor added:
"Allah ka apna intezam hota hai."
That:
"Allah makes His own arrangements".
Surely, we had witnessed Allah's own arrangements during the arrival and would continue to do so throughout the tour.