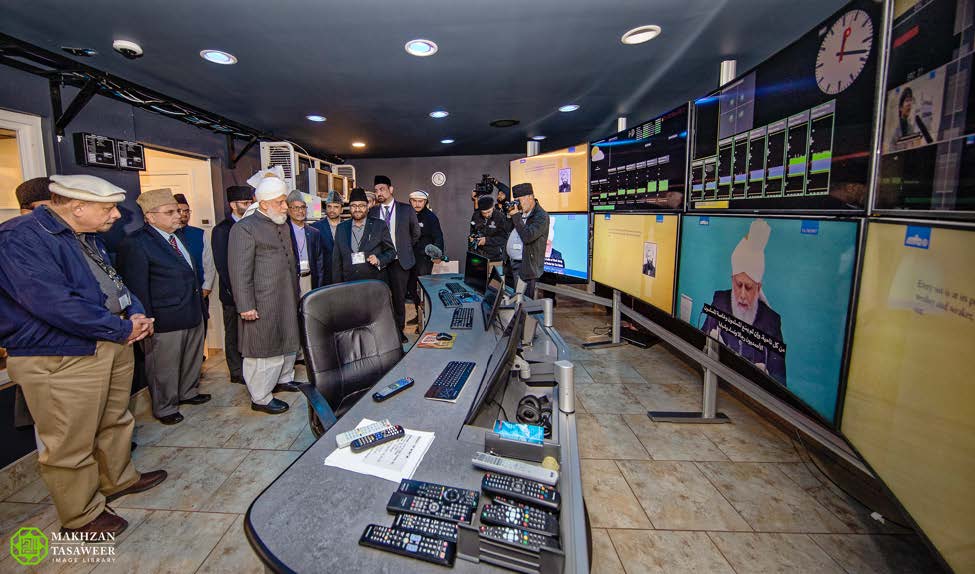 The morning after arriving in America, Huzoor came out of his residence where Ameer Sahib USA and other office bearers of the USA Jamaat were waiting to escort Huzoor on a tour of the entire Mosque premises.
Over the next hour, Huzoor inspected the various office blocks within the complex and the langhar khana (kitchen), dining hall and library. Huzoor also visited Masroor Teleport (MTA's North American earth station), which had been renovated and redesigned.
Whilst visiting the langhar, Huzoor advised that the size of the kitchen ought to be increased.
During an inspection of a medical clinic at the Mosque, Huzoor advised that, apart from the allopathic services it provided, it should provide homeopathy treatment. Huzoor said the over-dependence on antibiotics in the modern world meant that the risk of resistance to antibiotics were increasing.
As he continued to inspect the Mosque premises, Huzoor asked Faheem Younis sahib, Naib Amir of the USA Jamaat, about a housing project initiated by Majlis Ansarullah USA.
Faheem sahib gave an update and indicated that there had been certain issues that had caused a delay to the project.
In reply, Huzoor said:
"The Promised Messiah (as) has said that when things get delayed it is an opportunity to pray more. So, continue to pray and there is no need to worry."
Huzoor also visited the homes of two Waqf-e-Zindighis (life devotees) who resided in the Mosque complex; Mukhtar Malhi sahib, who served as the USA Jamaat's General Secretary and Tariq Malik sahib, serving in the Review of Religions team. Huzoor spent a few moments in each of their homes and met their family members.
As the inspection came to an end, Huzoor noticed he had not visited one of the marquees erected at the complex. Huzoor asked what it was being used for and was told it was a base for Majlis Khuddamul Ahmadiyya.
The Sadr Majlis Khuddamul Ahmadiyya USA, Dr Bilal Rana informed that the ground was uneven and muddy and this was why they had not taken Huzoor to the Khuddam tent.
However, as soon as Huzoor realised there were some Khuddam on duty, he proceeded to the marquee and met with them, much to their delight and joy.
As Huzoor walked through another marquee he noticed a very large spider moving along a table, quite near where food was being prepared. Given the risk of contamination of the food, quick as a flash, Huzoor took out a tissue and grabbed the spider with his hand before handing the tissue to Ahmad bhai to dispose of!
As Huzoor inspected the Mosque, a non-Muslim called Ilir Adili (48) was present. He was an Albanian immigrant to the United States and was working as a builder. He had done some renovation work at Baitur Rahman recently and had come back because he wished to see Huzoor.
After seeing Huzoor conduct the inspection of the Mosque, Ilir Adili said:
"My father is a Muslim but I was brought up in Albania under a Communist regime where religion was banned and so I never had any interest in religion. But after working at the Mosque for a few weeks, I was extremely interested to see who the Khalifa was and what he was like. As I said, I am not at all religious, but when I saw the Khalifa I felt something very special. I felt that he is a beautiful and hugely influential person. I don't know the Khalifa personally but just seeing him was enough for me to understand why he is a role model for millions of people. There are no words to describe how it felt to see him."