MTA Germany Team Visits London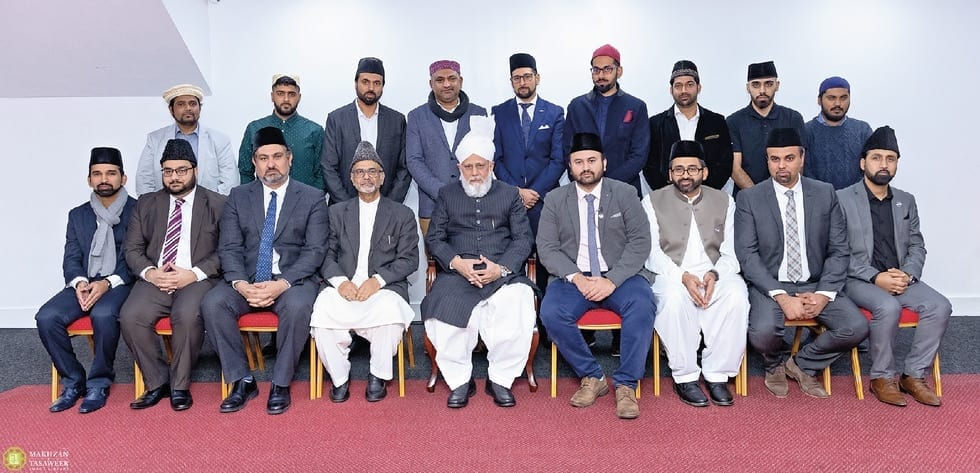 MTA International Germany Studios recently had the privilege of travelling to the headquarters in London. The highlight of this journey was undoubtedly the audience with Hazrat Amirul Momineen, Khalifatul Masih V, may Allah be his helper, in which Huzoor(aa) would give guidance and directives for the studio to pursue.
It was felt imperative that there needed to be a visit to the headquarters in order to interact and integrate with the MTA International team so that both teams are well-acquainted with one another and gain valuable experience and guidance from the London-based team. Hence it was decided that a team of Lajna and men from our studios would travel to London. A seven-day proposed schedule was graciously approved by Huzoor(aa) and the tour came to fruition.
One of the aspects of this tour was to seek guidance and expertise from various departments of MTA International. In this respect workshops were organised with Munir Uddin Shams Sahib (Managing Director MTA) who gave valuable tips for our daily work and shared some historical events related to inception of MTA. He also emphasised on obedience without exception.
Abid Khan Sahib (Director News) emphasised on the importance of delivering regular news content, Munir Odeh Sahib (Director Production) enlightened the team on the workflow of production department as well as give account of faith inspiring incidents whilst travelling on tours with Hazrat Khalifatul Masih, Asif Basit Sahib (Director Programming) gave instructions on type of content that needs to prepared and things to consider when producing programmes, Syed Taalay Ahmad (Documentary Producer) spoke on how it is best to structure a documentary whilst talking through some challenges he has faced and how to tackle them and Syed Jahangir Shah (System Engineer) gave a detailed insight into the engineering behind building a fully functional studio and also gave a hands-on demonstration of the well-integrated studio setup in the MTA International Studios.
Following this, a whole day was organised for the team to spend in their equivalent departments in MTA International, hence staff spent time in IT, Programming and Production departments where they sought further insight into their related professions.
One of the participants of this trip was Muzafar Mehmood Sahib, a producer for MTA Germany. He recounted his visit by saying:
"MTA is a project of Khilafat-e-Ahmadiyya. Visiting the headquarters was a living proof of this. The consistency between all workshop speakers were the narrations of incidents and guidance of Khalifatul Masih for MTA and the blessings of working with the Khalifa of the time. This was very beneficial for us. May Allah enable us to fulfil the expectations of Hazrat Amirul Momineen(aa). Finally, I want to offer my sincere Jazakallah Ahsanal Jazaa for the very kind hospitality of MTA International during our trip."
As there were several Lajna also taking part in this tour, various workshops were also organised with the MTA Lajna team, and these workshops were extremely beneficial for all the attendees.
Shahida Sahiba from MTA Germany recounts her visit:
"The Lajna department UK had prepared a training that taught us effective strategies and methods of video production. We gained motivation and inspiration from it and had a lot of fun since the training took place in a relaxed atmosphere among ladies"
Kashifa Sahiba an editor in the Lajna team expressed her views narrating:
"In the three days of workshops we intensively went through the working process of production and discussed all obstacles that can occur during production phases. During this time, I was also able to talk openly to MTA International Lajna team members about their challenges in recent years. After this conversation I realised that they also faced similar challenges to us in Germany, hence I was able to collect valuable experience and ideas on how to improve and tackle these hurdles."
The Mulaqat with Huzoor(aa) was an eye opener for all 28 attendees. Our beloved Imam enquired from all members their roles and responsibilities individually in MTA whilst giving direct instructions in various aspects from programme-making to administrative matters. Huzoor(aa) emphasised on making programmes according to people's interests, where we should conduct surveys among young people and see what programmes they require. Huzoor(aa) also sought to know if the Lajna team had independent workspace and equipment before instructing them to make programmes independently. Amongst other administrative responsibilities, Huzoor highlighted the need for reporting and keeping record of various things. These words of wisdom have been cherished by all of the team, and since returning back, everyone is enthralled at the meticulous attention to detail our beloved Imam has on all matters related to MTA.  In the end Huzoor affectionately allowed all Lajna members to have a separate picture taken whilst taking a group picture with the men.
Another participant, Sajed Qamar Sahib, an apprentice in the production department recalls this Mulaqat:
"The highlight of our trip was the opportunity of Mulaqat with our beloved Huzoor(aa), in which our beloved Imam gave important instructions and shared his expectations from us. Insha-Allah we will try to fulfil these expectations. It was an amazing trip."
Atkha Sahiba who is leading the MTA Lajna editing department recounts this Mulaqat:
"The highlight of this tour was the meeting with Huzoor(aa). Words cannot describe how happy I was when Huzoor came and sat down. As soon as I saw him, I felt that all my concerns about MTA work were gone immediately. I would like to thank Huzoor for giving us some of his precious time to guide us and to motivate us."
Finally, the last two days of the tour were left for sightseeing where the team had the opportunity of visiting Islamabad, to pray at the grave of Hazrat Khalifatul Masih IV(rh) whilst also seeing the Masroor horse riding school, then they travelled to Jamia Ahmadiyya UK before ending the day at the Makhzan-e-Tasaveer Exhibition. The final day was reserved for general London sightseeing.
Overall, the consensus from all Lajna and men was of being overwhelmed by the vibrant and faith-inspiring atmosphere they witnessed in and around the Fazl Mosque due to the presence of our beloved Huzoor. Upon returning, they have been reminiscing about the visit and how fortunate they felt praying behind their Imam, Hazrat Amirul Momineen, Khalifatul Masih V(aa).
May Allah the Almighty enable the team to reap great benefits from this visit, increase their faith and bond with Khilafat and act upon all the instructions given by Huzoor and setting a benchmark for obedience.