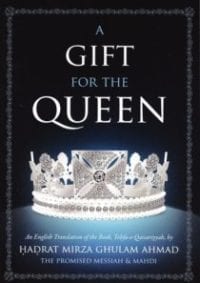 Book Summary
To start with, Hadhrat Ahmad (as) says that this letter of congratulation is from the person who has come to the world to deliver the people from the innovations which have crept into religion, just as Jesus Christ (as) did; it is from the person who wishes to establish truth through peace and kindness and to teach the people how to love their Creator and how to worship Him, also how to be obedient and loyal to Her Majesty the Queen.
This letter in the form of a book was presented to the Queen through her officials on the occasion of her Diamond jubilee. In the book, Hadhrat Ahmed (as) puts forward his claim and tells her that one of the proofs of the truth of a claimant is that he is accepted by a large number of people.
Hadhrat Ahmad(as) also explains what Islamic Jihad really means and how it is different from what people generally think it to be.
He explains the position of Jesus Christ (as) and tells her that it is most improper to call Jesus (as) an accursed person. He preaches Islam to her in a way that it is an invitation to her to join this noble faith.
A meeting was held and a prayer was offered for the Queen -this prayer is published in Urdu, Punjabi, Persian, Arabic, English.