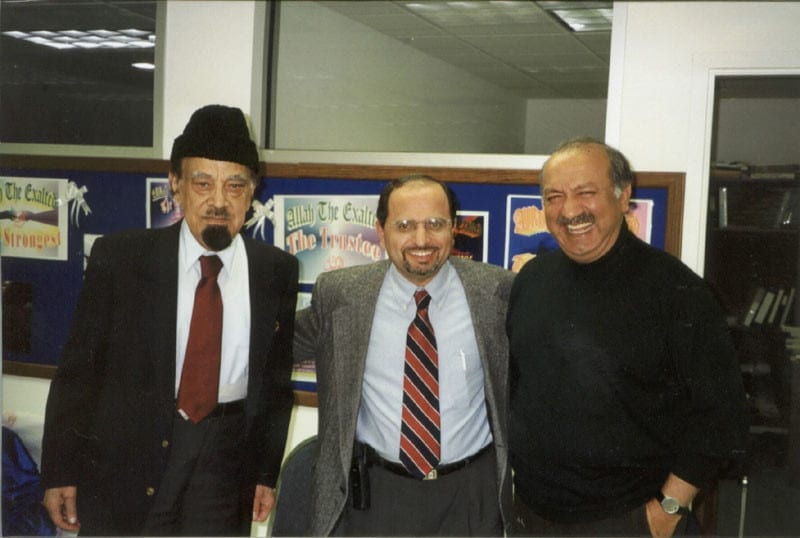 With the passing of Sahibzada Mirza Muzaffar Ahmad Sahib, Amir Jama'at  Ahmadiyya USA, we have lost a distinguished leader and a great human being.  Prior to becoming the Amir Jama'at  USA, Mian Sahib served Pakistan as a distinguished leader in finance and then served the world community as a director of the World Bank.
Over the last decade or so, I had developed a very close relationship with Mian Sahib and I look back with fondness at this unique man who spent most of his waking hours in the service of the Jama'at.  I thank God for this blessing and for this privilege afforded to me to spend so much time with Mian Sahib and to learn from Mian Sahib's vast experience.
I would like to share some fond memories.
Mian Sahib demonstrated in his words and actions an unparalleled regard and respect for Khilafat.  Whenever he wrote to Huzoor, he would write and rewrite his letters, making sure the letters were concise and to the point, as not to infringe unnecessarily on Khalifatul Masih's time.
In 1998, when Huzoor was here for Jalsa Salana USA, and as was Huzoor's custom, Huzoor was staying at Mian Sahib's house.  At Fajr prayers at Mian Sahib's house, some of us would also join in the prayers.  Mian Sahib would say his prayers sitting on a chair at the extreme right of the front row.  After the prayers were over, Huzoor would turn around on the prayer mat and talk to the gathering.  During this process, Mian Sahib would slowly and unnoticeably slide off the chair and sit on the ground so as to be at the same level as Huzoor.  He did this despite the pain and difficulty he felt sitting on the ground.
Another tribute of Mian Sahib was his humility and simplicity.  A person of Mian Sahib's stature and his accomplishments he never let it be known by his words and actions that he was above everyone else.  On the contrary, his demeanor was simple and he was a mild mannered person.  This simplicity was also reflected in the workings of the USA Jama'at.
An attribute of Mian Sahib was his regard for time.  He would strive to be punctual, despite the fact that his back pain was an impediment.  Whenever I had an appointment to see Mian Sahib at his house, he would be ready and waiting.  He once said to me that it bothered him when some people would show up an hour or two late without any valid reason and without calling to let him know that they were going to be late.
A special attribute of Mian Sahib was his propensity to seek diverse opinions on various Jama'at matters.  His usual custom was that he would send a written note to various people, seeking their comments.  In addition, during several of my visits with Mian Sahib, I would note that he would broach various issues with me, unrelated to my office.  I am sure he did this with many other people as well.  God had given Mian Sahib the wisdom to be able to discern right from wrong very quickly.  He would reverse his prior decision if needed.  Once a Jama'at meeting was organized, with Mian Sahib's approval, everything was in place for the meeting.  I was invited to the meeting to provide MTA coverage.
On looking at the program, I felt that such a meeting had a potential of undermining the system of our Jama'at.  I sent a note to Mian Sahib, expressing my view point.  A few minutes later, he cancelled the meeting.
God had blessed Mian Sahib with a very kind heart.  He always told me that we should focus on facilitating work and outcome rather than penalty and punishment.  When penalty and punishment became due, he would agonize over it.  I remember a time when he wrote to a person four times seeking some positive response so no action may be necessary.  In some of our special meetings where we were doing some assigned work, I would note some letters written to Mian Sahib that were disrespectful and hostile.  Yet these never seemed to bother Mian Sahib and he carried out his work with utmost integrity and justice.
Mian Sahib gave precedence to others over his own self.  Once at a wedding, he tripped and banged his leg on an object.  He got up and sat down on a chair through the wedding as if nothing had happened.  When I went to see him a few days later, he had a big haematoma on his leg.  He told me that he felt the haematoma developing as he was sitting at the wedding but he would not disrupt the happiness of the occasion by drawing attention to himself.
When my daughter Fatima's Nikah ceremony was to be held, on the occasion of the Jalsa Salana USA 2000¸ I had requested Mian Sahib to participate in the ceremony.  The ceremony was held at Baitur Rahman Mosque after Maghrib and Isha prayers.  Mian Sahib's work was done and he had to wait four hours to attend the ceremony.  Yet he waited, despite my pleading that is was alright and that he should go home.
At our weekend meetings at Baitur Rahman, Mian Sahib would bring his lunch with him, as would other attendees from the metro area.  Since I was an outsider without fail, Mian Sahib would insist that I have half of his sandwich.
Once Mian Sahib called me to come to see him for a medical need.  The day I was to travel to see him, the forecast was for snow in the metro area.  Mian Sahib had Zahir call me to tell me not to come till the inclement weather was over.
The hallmark of Mian Sahib's leadership was that he was always available and easily accessible.  Those who became closely associated with Mian Sahib and followed his instructions and guidance, excelled in their work.
Mian Sahib was a great asset to the Jama'at.  He shared his life with us.  The working organization that Mian Sahib put in place for the USA Jama'at over the last twelve years is perhaps the best in the world.  Taking into account the limited manpower we have in the USA Jama'at, it is all the more astonishing that we have, by the Grace of God, achieved so much.  Mian Sahib's legacy continues.
May his soul rest in peace.